Margaret Evans
Great Britain


Artist's Statement
Through my teaching and travelling worldwide, I have developed my work with bolder tone and colour, inspired by the many talented artists that I have met along the way.
My influences have widened, my style has loosened and I continually source new ways to express myself as a painter, whether through my love of pastel, my sketches in watercolour, or in oils.
Much of my life has been spent promoting and endorsing pastels as a truly serious & worthy medium for artists, and they continue to inspire & excite me whether used in dry or wet techniques. It is gratifying to see pastels finally being accepted as a serious painting medium & I'm proud of my involvement in this progress.
I continue to promote pastels and teach invitational workshops internationally, and home time concentrates on my development as an artist, painting full time in the studio.
My thanks go to all the artists worldwide who have supported and believed in my teaching, and continue to help me grow as an artist. I look forward to our future adventures together, travels into the unknown, and continuing our
Paintaway
programme, as well as now offering Art Management Services to other artists with their own students.
Qualifications
Glasgow School of Art – Diploma of Art ( Drawing & Painting) – DA
University of London - Art Teachers' Certificate - ATC
Signature member of Pastel Society of America - PSA
Member of Pastel Artists of Canada, Art du Pastel en France & Pastel Society of Spain
Member of steering committee for Landscape Artists International – LAI incorporating International Plein-Air Painters
Est Shinafoot Studio, Scotland based in Perthshire. Art Workshops and International Painting Holidays. Working studio and workshops in pastels, gouache, oils, watercolours, in all subjects. Commissions in numerous private collections for portraits, golf/sporting, landscapes etc.
Artist member of The Glasgow Art Club
Exhibitions
JUNE 2020 - HELPING YOU TO FIND, VIEW, & PURCHASE NEW ARTWORK WITH EASE & COMFORT
With such uncertain times complicating life sometimes, it is important to work out the simple rules of surviving in business, not something an artist is particularly known for in skills! We survive on my painting sales, commissions, galleries, as well as my 'notoriety' as a tutor/ author/ pastel expert. We rely on recommendations, not advertising. Through that, we are proud to frequently welcome back return clients/collectors.
The galleries who carry my work are of exceptional quality and status, who can help and advise you on what you are looking for, even sometimes arranging home visits to let you see several works in the comfort of your own home.
My scheduled exhibitions this year are either online or tentatively opening soon. I have made my website more efficient in showing what work I have, but there is always much more available, so I can open my studio to you by appointment. There is always a lot more stock in the studio, than on any gallery wall at one time.
If you see a painting you like via a gallery, I will direct you to the gallery, and you work through them on sales. I have discouraged sales directly from the studio in the past, as the studio is a working space, not conducive to visitors, but stacked with work in a messy fashion!. But I now invite our serious buyers to visit the studio, see what is on offer, and help them select new investments, or discuss commission possibilities.
If you would like a chance to do this, please get in touch and let us know what you are looking for, and like to see. There may be the very painting you're looking for, sitting here, or a commission brewing!
We can either arrange a private visit to the studio, or send jpegs of suggested work. Thank goodness for internet! It is helping us to reach out and keep in touch!!
Galleries
Ballater Gallery, Ballater, Highlands
Lemond Gallery ,Bearsden , Glasgow
Scotland Art, Glasgow & Edinburgh
Gallery Heinzel Aberdeen
The Glasgow Gallery, Glasgow
Rowan Gallery, Helensburgh
Holroyd Gallery Ballachulish
Torrance Gallery Edinburgh
Jetty Gallery, Oban
Archway Gallery, Lochgilphead
NEW EXHIBITIONS FOR 2020..... Moy Mackay Gallery Peebles - 25 May to 1 July
Dancing Light Gallery, West Linton - 1 August to 29 September
The Glasgow Gallery, Bath St. Glasgow - 26 September to 17 October
Other Information
Written books for Harper Collins, Search Press, David & Charles – featured in numerous international art magazines including UK, USA, Hong Kong, Australia, Norway
Book & DVD 2014 'Pastels Unleashed' with Search Press - now reprinted in French, Italian , Russian & Chinese
Pastel consultant for Conte UK, Derwent, Canson, Sennelier, Art Spectrum, Winsor & Newton, Dlaer Rowney, Great American Artworks & Terry Ludwig Pastels USA
Former President of Society of All Artists SAA
International judging for IAPS, PAC & other Pastel Society Awards
Workshops annually throughout UK, Europe, USA, Canada, Australia.
Guest Artist at International Association of Pastel Societies Convention, held in New Mexico, USA for the last 12 years
Annual 'Paintaways' Holidays organised in France, Tuscany, Venice & Scotland
Recent invitational Pastel Workshops
Contemporary Scottish Artist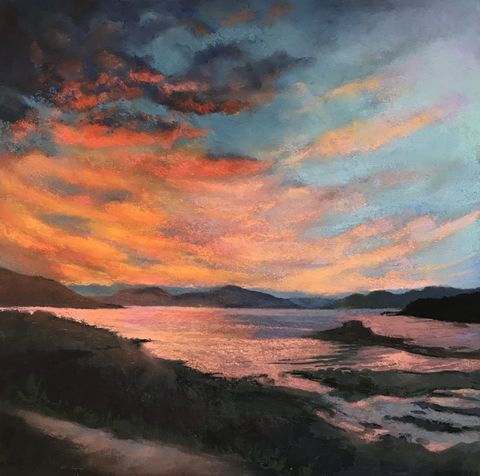 As we hopefully continue to come out of the Coronavirus pandemic, we are
relieved to say
that most galleries carrying my work have continued with online sales, and offered personal delivery in some cases. From the studio, we have been able to offer online sales & commissions which have proved popular and have shipped successfully around the world. Please consider these options - a good time to invest in art, have your own personal subjects painted & keep us in work! I do believe we have cheered some people during lockdown!
Margaret Evans is a Scottish contemporary artist - an internationally respected tutor and author of numerous teaching art books and DVDs, as well as teaching workshops worldwide.
Her studio is in Highland Perthshire, an area of outstanding beauty in Scotland, approximately 40 miles north of Edinburgh and Glasgow, which also offers a bespoke picture framing service, Art Management Service organising workshops & painting holiday events for art groups, societies and other teaching professional artists with their own students.
Margaret has a D.A. (Glasgow School of Art) A.T.C (University of London) and is a signature member of the Pastel Society of America, and member of the prestigious Glasgow Art Club.
Margaret 's work can be seen in Scotland's most prestigious galleries and collected internationally for Private Collections. Visits to the Studio can be arranged by appointment for private viewing of current work and/or discussions for landscape or portrait commissions -
TEL 01764 670070