Anne Taylor
past-president of the Pastel Society of Victoria, Australia (PSVA)
Editor of the VicPastel News
Pastel Society of Victoria, Australia, Inc

BIO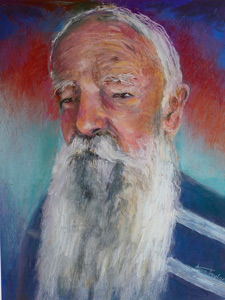 Anne is a hobby artist, when she stops gardening for long enough to paint. She is Secretary and Editor of the newsletter of The Pastel Society of Victoria, Australia, a member of Sherbrooke Art Society and Emerald Art Society.
She is a retired Primary, Special Education and Adult Migrant teacher. She and her husband live in Emerald on a 5-acre property, revelling in a beautiful garden which she has designed and planted most of except for some established trees. This garden has been included in the Open Garden Scheme twice and is open for other visiting groups.
Anne has been taught by Barbara McManus, a prize-winning, prestigious pastel artist, for many years and has attended many workshops and demonstrations given by various Australian and International artists such as Regina Hona, Rosemary Todman-Parrant, Maxwell Wilks, Herman Pekel, John Dudley, Ross Paterson, Lee Machelak and Margaret Evans from UK.
She admires and has been influenced by the work of American artists John Singer Sargent, Harley Brown, Carole Katchen, the French, Dutch and Australian Impressionists especially Tom Roberts, Arthur Streeton and Frederick McCubbin. Her art teacher at Dandenong High School was a huge influence. He was William McCubbin – Fred's great-nephew, who wanted her to be an art teacher, but she chose infant teaching instead. After family rearing and teaching career she decided to take up art again and discovered the delight of pastel painting. She paints in oils too, but pastels are her preferred medium.
Anne was invited to contribute a portrait for "Melba's Marvellous Melbourne" an exhibition held in honour of Dame Nellie Melba's 150th birthday celebration in May 2011.
Anne particularly loves painting landscapes and portraits. Travelling in Tuscany in 2006 with a group of artist was a wonderful experience for her.
She has exhibited in many art shows and has had many Highly Commended and Commended awards. She has sold many of her works which are now in the USA, Germany and around Australia.
In 2010 Anne was awarded an Honorary Life Membership of The Pastel Society of Victoria, Australia for her extraordinary services to the Society.